Homesteading Doctors on the Last Frontier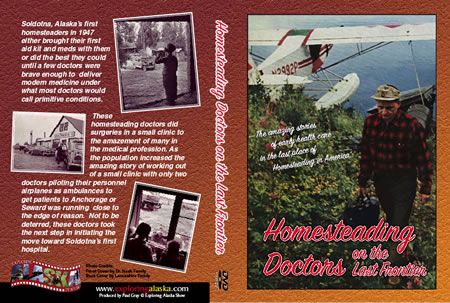 About the DVD
In 1947, homesteaders in the central Kenai Peninsula (Alaska) did the best they could until a few doctors were brave enough to deliver modern medicine under pioneer conditions. Hear the captivating story of early Soldotna settlers. Feel their hardy make-do spirits as you see them establish homes and forge a way of life. Discover how Dr. Elmer Gaede and his partner Dr. Paul Isaak, performed surgeries in a simple clinic and used their airplanes as ambulances to Seward and Seldovia. Watch medical history evolve from a small frame house to Central Peninsula General Hospital.
DVD includes an interview with Naomi Gaede-Penner. Produced by Paul Gray, Exploring Alaska TV Show.
Central Peninsula General Hospital has display cases honoring both Dr. Elmer Gaede and Dr. Paul Isaak.