In Prescription for Adventure: Bush Pilot Doctor and From Kansas Wheat Fields to Alaska Tundra you read about Doc and Ruby getting in on the last Homestead Act in Alaska, in 1961. Eighty acres was theirs for the taking. All they had to do was "prove up." The requirements varied, but most followed the procedures for earlier homestead patents in Oklahoma, Nebraska, and other such sunlit, prairie-sod states:
Clearing a percentage of the land.
Building a primary residence and living in it continuously for several years.
Planting a harvestable crop.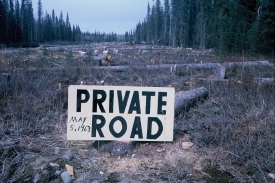 "Proving up" the Homestead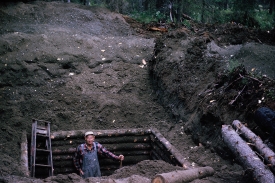 Solomon Leppke Digging a Septic Crib
On the Kenai Peninsula, the requirement of clearing 8 percent of the land was difficult enough, given the terrain was that of dense black spruce forests with mossy floors and criss-crossed windfall; but, the factor that stumped many homesteaders — and the officials who monitored such guidelines — was planting a harvestable crop: the cool growing season of midnight sun was perfect for root crops, but truncated for what was typically considered "harvestable," that of grass and grains. One homesteader got away with planting potatoes.
Energy couldn't be wasted with experimenting, trying to evade the stipulations, or using up the designated three years to prove up. Doc and Ruby matched their lifestyle needs and the proving up process; thus, clearing a half-mile long airstrip and planting oats and then timothy hay on the elongated pasture. Building one residence wasn't enough. They built a log cabin, primary residence, hangar, woodshed, and A-frame. Later, another hangar was added, along with a chicken coop.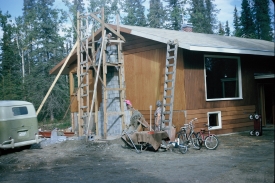 Building the Main House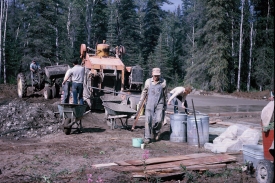 Solomon Leppke and Others Pouring the Hangar Slab
In the 1980s, Doc purchased an additional 33 acres; nevertheless, the entire Gaede homestead is referred to legally as "The Gaede (gay-dee) Eighty Subdivision."
A number of years have passed since the 1960s when the buildings were freshly painted and the airstrip groomed. What have been the effects of 40-some years of below zero weather, drizzly rain, squirrels, below-code electrical wiring, heavy snow loads on roofs, rotting logs, and the wilderness's determination to reclaim any cleared space? What have been successive improvements? What has become of the airstrip and buildings?
The Old Hangar, built in the early 1960s become hazardous to the airplanes which sought refuge.
The cabin's longevity was interrupted by a fire.
The half-mile Gaede Eighty airstrip is noted on aviation maps as "Gaede Private."