The Alaska Story of Anna Bortel Church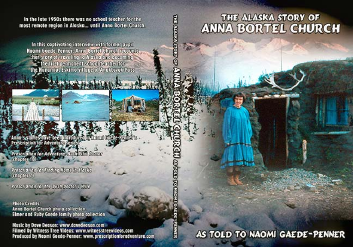 About the DVD
Anna Bortel was Naomi's second-grade school teacher in Tanana, Alaska. Listen as Anna recounts her story of pioneer teaching in Alaska, starting in 1954 when she drove up the Alcan Highway from Ohio to Valdez. Three years later, she pushed north to Tanana, along the Yukon River and in the middle of Interior Alaska. Here she met the Gaede family and had Naomi and Ruth Gaede as students. See the drafty Quonset huts with freezing oil lines that added to her teaching challenges. Discouraged? Yes. Daunted? No. She couldn't resist accompanying Doc Gaede on a medical field trip to the most remote of all Native groups — the Nunamiut Eskimo village of Anaktuvuk Pass. Catch a glimpse of her Arctic world with smiling students, and the sod house she called "home."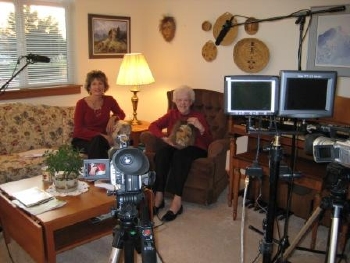 (Naomi interviewing Anna at the video-shoot.)
Inside the DVD
Table of Contents:
How a girl from Ohio becomes a teacher in Valdez, AK (1923-1954)
Farther north - Tanana, AK (1957 - 1960)
Most remote Alaska - Anaktuvuk Pass (1960-1962)
Epilogue
This 33-minute DVD was filmed by Road's End Films.
Discussion: How do you challenge yourself?
What qualities in a character inspire you to stretch yourself?
What is a Comfort Zone?
Specifically, what Comfort Zones did Anna move herself out from in regards to:
Personal conveniences
Work and career
Friends and family
Environment
What Comfort Zones would be challenged if you were to have lived in her situation?
What Comfort Zones have you moved out from in the past five years? One year? What were your feelings? fears?
What were the results of Anna challenging herself? (For her personally, as well as for individuals around her.)